About Us
Mark Hoerr Landscaping, Inc
Mark Hoerr Landscaping was formed in 2006 by Mark and Shelli Hoerr. Two years later they teamed up with Keith and Jill Teubel to form Heartland Irrigation. This partnership has made us the only team in Central Illinois that offers full-service landscaping and irrigation services. Our goal is to meet or exceed all of your expectations and provide you with a great looking landscape whether you choose to do a retaining wall, new patio, fire place, outdoor kitchen or walkway . Contact Mark Hoerr Landscaping today for a 1-on-1 consultation. We would love to make the  outside of your home your getaway oasis!
View More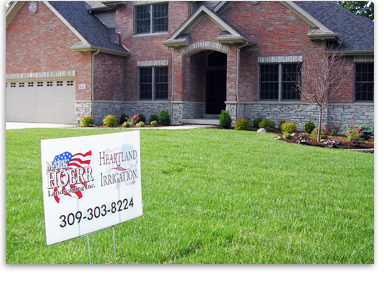 Client Reviews
"Our patio is finished and it is beautiful! From the very first day Kathy showed up to design our landscaping, we knew we had selected the right landscape contractor. She had great ideas and presented a beautiful plan. She was very knowledgeable, and was able to answer all our questions; and we had a lot of them. The crew you sent out to do our work were great. We enjoyed talking and joking with them. They did a tremendous job of turning Kathy's design into reality. I know they ran into some unexpected problems, but they solved them, and we ended up with an outstanding back yard."
-Ed & Joan Messmore
"Just wanted to take a minute to let you all know how much we love our landscape. Boomer and Josh did a great job on our firepit and patio. Can't wait until spring to do some more!"
-Sean & Shalaine Maher
"We had a large landscaping project at our home that included both the front and back yards. We wanted to create an outdoor oasis like you see in magazines. We knew it was going to be an extensive and expensive project. We were very impressed in our initial consultation with the landscape designer. She really listened to what we wanted and understood what we were trying to achieve. Through her knowledge she also brought many of her own ideas to the table and advised us on materials and plant choices. She even looked at our yard from inside the house so she was sure what we saw out the windows was appealing. We had asked several companies for estimates and design plans. Mark Hoerr's bid was not only competitive but he used higher end materials and we received a beautifully hand drawn plan that reflected what we wanted our yard to look like. They also advised us on how to implement the design in stages so we could afford it and have the beautiful yard we always wanted. As the projects started to take place they continued to listen to us and work with us regarding any changes that had to be made. The designer was there with us every step of the way. Everyone that worked on our yard was very courteous and pleasant. We are so happy with our yard."
-Kevin and Molly Fahey